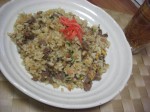 Fried rice is typically very easy to make but a little hard to make it taste great. But the more you make it, the better it gets! Beef and pickled ginger is my favorite fried rice combination, but if you don't like or cannot find pickled ginger, try regular pickles. It may sound strange but tastes great!
Ingredients
3/4 lb sliced, chopped beef
2 bowls of steamed rice (about 2 cups)
1/2 onion (chopped)
1/4 cup chopped green onion
1/2 oz pickled ginger (minced)
Some pickled ginger on the side
1 egg (beaten)
Preparation
Heat oil in a frying pan, cook beef for 30 seconds over medium heat
Add onion and green onion, and cook 2 minutes over medium heat
Add egg, mix, then add rice and ginger. Cook for 2 minutes (turning rice to keep it separated)
Serve and enjoy!