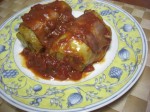 This is a very popular home cooking meal. It has been in Japan for over a hundred years and many families have their own custom version of this recipe. Enjoy!!
Ingredients
8 big leaves of cabbage
10 oz ground beef
1 onion (chopped)
1 egg (beaten)
1 tbsp panko
4 bacon (cut in half)
4 dry spaghetti (to hold rolls together)
Spices (for meat)
1 tbsp milk (mix with panko)
1 tbsp ketchup
dash of salt and pepper
dash nutmeg
Spices (for sauce)
1 can of chopped tomatoes
1/4 cup red wine
1 beef bullion cube
2 tbsp ketchup
1 tbsp soy sauce
Preparation
Boil cabbage leaves until soft, then slice off the hard white core, chop, and set aside.
Heat oil in a frying pan and fry onion until golden brown.
Remove onion and set aside. Mix ground beef with onion, chopped cabbage core, panko/milk mixture, and ketchup, then knead.
Sprinkle nutmeg, salt, and pepper
Divide meat into eight equal parts
Roll meat into cabbage leaves (see pictures) and cover with bacon. Spear with spaghetti to hold the roll together
Put rolls in a sauce pan, add 1 cup water, bullion cube, tomatoes, soy sauce, and ketchup and cook over medium-high.
When the sauce boils, add red wine. Reduce heat to low and cook for 20 minutes
Serve and enjoy!