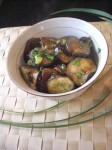 "Nasu" is the Japanese word for eggplant, and "gyuniku" is beef. "Amazu" means sweet vinegar sauce. Japanese eggplant is smaller than western eggplant, but you can use either kind for this recipe.
Japanese: nasu to gyuniku no amazu itame
Ingredients
0.6 lb eggplant (1/4 inch slices)
1/2 lb beef (1/4 inch slices)
4 mushrooms (sliced)
1/2 cup green onion (chopped)
Preparation
Place beef in a bowl, add spices for beef (sugar. soy sauce and sake), and mix
Put eggplant in another bowl and sprinkle flour
Mix spices for sauce in another, small, bowl (soy sauce, sugar, vinegar)
Heat oil in a frying pan and stirfry beef for 2 minutes on high heat
Add eggplant and mushroom, stir for 3 minutes over medium heat
Adjust heat to low and add mixed spices untill sauce is fully absorbed
Sprinkle green onion on the top
Serve and enjoy!