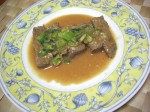 You can find many varieties of steak in Japan. At Japanese-style steakhouses we eat with chopsticks, so when the meal comes, the beef is already cut into bite sizes! Miso is delicious with beef, so please give it a shot when you want to try something different.
Ingredients
2 steaks
1/4 cup green onion (chopped)
1/2 tbsp butter
1 tbsp miso paste mixed with 2 tbsp water
Salt & pepper
Preparation
Tenderize steak and sprinkle salt and pepper both sides
Heat oil in a frying pan and cook steak for 2 minutes on each side
Transfer steak to a cutting board and cut into bite sizes
Add butter to the pan, add miso/water mixture, and stir for 30 seconds
Return the steak to the pan and cook for 30-60 seconds (skip if you like your steak rare)
Serve with the miso sauce, and enjoy!