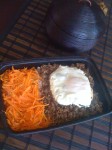 This recipe is pretty simple but there are many ways to prepare it. Nikumiso is great with steamed rice, fried rice, fried noodles, pasta, sandwiches, and very tasty just wrapped in lettuce. The possibilities are endless… The recipe I made here was a nikumiso bento box (lunchbox), served on a bed of rice, and topped with a fried egg and carrots for extra deliciousness!
Ingredients
1 lb ground beef (lean)
1 cup green onion (chopped)
1 clove garlic (minced)
1 clove ginger (minced)
Preparation
Mix spices in a small bowl (miso paste, sake, soy sauce, sugar, & water)
Heat oil in a frying pan then add garlic and ginger then add green onion
Add ground beef, stir for 5 minutes.
Add mixed spice (miso, sake, soy sauce, sugar, water) and stir until the water boils off (about 5 minutes)
Add sesame oil and mix.
Serve and enjoy!