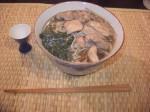 This recipe is also called "tori nanban". You can order it at any soba restaurant in Japan (it's very popular recipe). It is getting cold out now, so stay warm and eat hot soba!
Ingredients
2 bundles of soba noodles
1/3lb thigh chicken (1″ slices)
3 green onions (cut into 2″ pieces)
Spices for chicken
1/2 tbsp soy sauce
1/2 tbsp sake
1/2 tbsp mirin
Preparation
Mix spices for chicken (soy sauce, sake and mirin) in a small bowl, as well as the spices for soup (3 cups of dashi soup, soy sauce and mirin) in a separate bowl.
Boil Soba noodles for 8 mins and strain. (Each type of soba has a different boiling time, so please follow the instructions on the package)
Heat oil in a sauce pan, add green onion and chicken, grill for 3 minutes over high heat, then add mixed spices for chicken, stir for 2 minutes.
Add mixed soup spices then boil for 3 minutes.
Put soba in a bowl dish, add put chicken, onion and sauce.
Serve and enjoy!