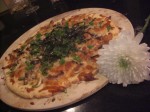 Pizza is a popular food to order in Japan, but we have some original recipes as well. This recipe is for a teriyaki chicken pizza. Perhaps it's very different than the pizza that you may be used to, but it's unique and tastes great!!
Ingredients (dough)
1 cup bread flour
3g dry yeast
1/4 tsp salt
2 tsp sugar
1/2 tbsp olive oil
5 tbsp warm water
Ingredients (pizza)
1/2 lb thigh chicken (sliced)
4 mushrooms (sliced)
1 1/2 cup shredded mozzarella cheese
1/4 cup green onion (chopped)
Seaweed (chopped, optional)
Preparation
Mix bread flour, dry yeast, salt, sugar, & olive oil in a bowl. Slowly add warm water and mix. Knead dough by hand.
Sprinkle flour on a clean surface and roll out the dough into a circle with a rolling pin (continue to add flour to keep it from sticking to your hands and rolling pin)
Heat the oil in a frying pan and grill chicken for 3 minutes over hight heat. Sprinkle salt and pepper.
Add soy sauce, mirin, sake, sugar, and cook for 2 minutes over medium heat.
Spread mayonnaise on the dough, then add teriyaki chicken, mushrooms, and cheese.
Put pizza in the oven for 15 minutes at 430 degrees F.
Remove from oven, sprinkle with green onion and seaweed, and serve!!