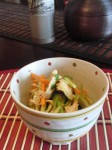 Chicken is low in calories so it's very good if you're on a diet. Also, vinegar is a great antidote for fatigue, so this recipe is a perfect cool, summer appetizer.
Ingredients
3 chicken breast fillets
4 cucumbers (julienne-cut)
2 celery sticks (julienne-cut)
1 carrot (julienne-cut)
1/4 cup cilantro (chopped)
Spices
2 tbsp soy sauce
1 tbsp vinegar
1 tbsp sugar
1 tbsp ground sesame
2 tbsp sake (for chicken)
Preparation
Separate the stringy, white tendon from the chicken fillets
Combine the chicken and sake in a small microwave-safe container and cover with plastic wrap
Microwave chicken for 2 minutes then remove and pull apart
Mix spices (soy sauce, vinegar, sugar and sesame) in a small bowl
Pat cucumber dry with a paper towel, then add it and the rest of the vegetables to the separated chicken. Add spices and mix well.
Cool the salad in your refrigerator then serve and enjoy!