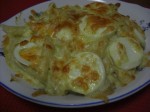 Japanese: Guratan.
Gratin originally comes from French cuisine and is a very popular food in Japan. Most gratan is baked with macaroni, chicken, and vegetables in a white sauce with cheese, but there are many varieties, including Japanese influenced recipes such as tofu gratin.
Ingredients
0.35lb macaroni
1/4 lb chicken (chopped)
2 eggs (boiled and sliced)
4 mushrooms (sliced)
1/2 onion (sliced)
1-2 oz pizza cheese
3 cups of milk
Spices
2 pads of butter
3/4 tsp salt
1 cube (4g) consommé
4 tbsp flour
Preparation
Heat butter in a frying pan and add flour when the butter melts
Add milk little by little, stirring continuously, to make white sauce, then add consommé cube and mix
Boil macaroni
Heat oil in a frying pan and grill onion, chicken and mushrooms
Turn off the stove and add macaroni and white sauce in a pan and mix
Put a pad of butter on each plate, add macaroni, then boiled eggs and cheese
Cook in the oven on 450 degrees for 8 minutes
Serve and enjoy!