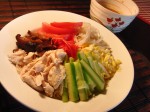 Hiyashi Chuka is a cold noodle dish most often served in the summer months in Japan. We use Chinese-style noodles as a base and mix in vegetables, fried eggs, and chicken or ham. When the summer season kicks off, many restaurants hang signs in their windows proclaiming "冷やし中華はじめました", or "Now serving reimen!"
Ingredients
2 packs of Chinese noodles
2 chicken breast fillets
2 small cucumbers (sliced julienne)
1/2 tomato (sliced)
1 cup bean sprouts
5 dried shitake mushrooms
2 eggs
Some pickled red ginger (an optional topping)
Spices for sauce
1/4 cup vinegar
1/4 cup soy sauce
2 tbsp sugar
2 tbsp ground sesame
1 tsp sesame oil
2 tbsp sake (for chicken)
Preparation
Soak dried mushrooms in water for 20 min then slice the mushrooms (hold on to the juice–you'll need it in the next step)
Mix spices for shitake (sugar, mirin, sake, soy sauce) and 1/3 cup of the shitake juice in a sauce pan, add shitake, then boil for 5 min on low heat and let cool
Mix spices for sauce (sugar, soy sauce, sugar, sesame, sesame oil) and 1/4 cup water in a bowl and chill in the fridge
Beat eggs in a small bowl and salt to taste. Heat oil in a frying pan then pour in the eggs and fry them like an omelet (see pic below). Turn and cook the other side
When the eggs are finished cooking, remove and slice into tiny strips
Boil bean sprouts for 1 min and strain
Remove the stringy, white tendon from the chicken breasts then combine the chicken and sake in a small microwave-safe container and cover with plastic wrap, microwaving for 3 min. Remove and pull apart
Boil Chinese noodles for 5 min (follow the package directions), douse with cold water to stop the cooking process, then strain
Place noodles in a serving dish, add shitake, bean sprouts, chicken, cucumber, tomato, egg and top with red ginger
Serve with the sauce from the fridge (on the side, or pour over)
Enjoy!