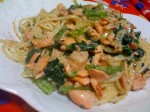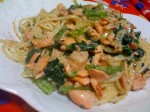 Salmon Cream Pasta is a popular item in Japanese-Italian restaurants. Not technically a Japanese dish, but it is popular in Japanese homes, so I thought I'd share it with you. Also, this tastes great with a little ikura (salmon eggs) on top.
Ingredients
2 salmon fillets
3/4 cup whipping cream
8 oz pasta
1/2 onion (sliced)
1 tbsp parmesean cheese
4 oz spinach
1 tsp minced parsley
Spices
1/2 oz butter
1 chicken bullion cube
salt and pepper
1/4 cup sake
1/2 tsp olive oil
Preparation
Remove salmon skin and bone
Boil pasta al dente, saving 1/2 cup hot water
Heat a pan with 1/2 tsp olive oil and butter
Add salmon, separating the meat, then mix in onion and cook for 3 minute
Add sake and stir then add spinach and a dash of salt and pepper, mixing for 2 minutes
Add cream and 1/2 cup hot water, and stir, then add bullion cube
Add parmesan cheese, and salt and pepper to taste
Add minced parsley
Mix with pasta and serve
Modifications
For a lighter pasta use half and half or cut the cream with milk.