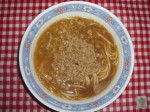 Tantanmen is a Chinese noodle dish, and very popular in Japan. There are many tantanmen restaurants in Japan and some ramen houses serve it as well, but tantanmen is much easier than making ramen soup—and tastes great! This contains some Chinese spices that are not very common but many Chinese supermarkets have them in the spices aisle.
Ingredients
6oz (180g) ground pork
1 clove pressed garlic
1/2 tbsp grated ginger
1 long green onion (chopped)
2 bags of Chinese noodles
Preparation
Heat a sesame oil in a frying pan, add doubanjiang, then add garlic, ginger, and green onion, and stir for 30 seconds.
Add ground pork, cook for 3 minutes over medium heat
Add sake, soy sauce, miso, chicken powder, sweet bean sauce, sesame paste, and mix
Add 4 cups of water, and when it boils add rayu and simmer for 10 minutes on low heat
Put the noodles in hot water to separate (you can use instant noodles if you can not find fresh noodles).
Put noodles in a bowl, add soup, and serve!