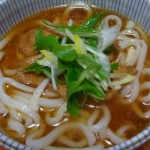 Tanuki Udon is Kyoto's original Udon soup. This particular Udon is thick and contains ground ginger for a special taste. Most Kyoto Udon restaurants serve Tanuki Udon but it is harder to find in other cities. Ginger and green onion are good for a sore throat, so this is also a good recipe if you are feeling sick, and is great overall for a healthy diet.
Ingredients
1 1/4 Udon noodles
1/4 Aburaage (thin dried tofu) (2" slices)
1/2 green onion (sliced lengthwise and chopped—see picture)
1/2 oz ground ginger
Spices
5 cups dashi soup or 5 cups hot water and 1/4 oz (8g) hon-dashi (soup stock powder)
1 tbsp sake
2 tbsp mirin
1/4 cup soy sauce
1/4 tbsp salt
2 tbsp sugar
2 tbsp katakuriko (mixed with 5 tbsp water)
Preparation
For dry Udon noodles, boil for the recommended time on the package. If the noodles are fresh, only boil for 2 minutes to separate.
Boil dashi soup then add sake, mirin, sugar, salt, soy sauce, and mix
Add katakuriko to thicken the soup
Add aburaage and ginger
Transfer Udon noodles to a bowl. If the noodles are stuck together, loosen with a little hot water and strain.
Sprinkle green onions on top and serve!