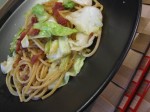 This is one of my favorite pasta recipes. The garlic and bacon mingle well together, and the cabbage gives it a satisfying texture. This is a great meal to make on a budget, but essentially it's just a fancy bacon delivery system!
Ingredients
1/2 cabbage (cut into 1″ squares)
4 slices of bacon
1/2 lb (ish) pasta
1 tsp garlic (ground)
Preparation
Boil pasta al dente
Mix spices in a small bowl (soy sauce, mirin, garlic and sesame oil)
Trim fat from bacon and chop
Heat frying pan and cook bacon until it is mouth wateringly crispy
Sop up the grease in the pan with a paper towel then add cabbage and cook for 2 minutes
Add pasta, mixed spices, and stir
Remove from heat, sprinkle salt and pepper, and serve!