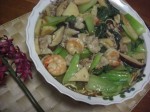 Gomoku Yakisoba is crispy, grilled noodles with vegetables, pork, and seafood, in a hearty, thick sauce. It's great to make with your friends and enjoy in a large dish on a hot plate around the table.
Ingredients
1 lb Chinese noodles
1/2 lb sliced pork (2.5″ slices)
8 shrimp (deveined)
2 oz chopped squid
4 oz chopped bamboo
1/2 lb bok choy (chopped into 2.5″ pieces)
1/4 oz thinly sliced ginger
3 dried shitake mushrooms (sliced)
1 1/2 tsp Chinese soup powder (chicken bullion powder)
Preparation
Mix 1 3/4 cups water with sake, soy sauce, chicken powder, sugar, and oyster sauce
Boil water and blanch noodles for 5 seconds to separate and strain
Heat oil in a frying pan, add noodles and cook for 2 min on high heat
Flip noodles and cook for 2 more minutes
Flip once again and cook for 1 more minute to make noodles crispy (longer if needed)
Transfer noodles to a dish
Put sesame oil and ginger in the frying pan over medium heat
Add pork and stir for 1 min
Add shrimp and squid and stir for 1 min
Add bamboo and shitake and cook for 1 min
Add bok choy and mixed spices and cook for 2 min
Add katakuriko mixture to the pan to thicken sauce (add more katakuriko if needed)
Serve and enjoy!