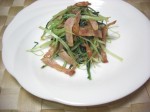 Mizuna is a Japanese vegetable, also called Japanese Mustard or California Peppergrass, which used for hotpots, salads, and pasta, among other things. This is just a quick little side dish you can throw together, especially if you have some mizuna leftover from other recipe.
Ingredients
2.5 ounces mizuna (chopped into 2″ pieces)
1.5 ounces bacon (sliced small)
1 tsp soy sauce
dash salt
Preparation
Cook bacon in a pan until crispy (3-4 min)
Remove excess grease from the pan
Add mizuna, soy sauce, and a dash of salt
Serve!