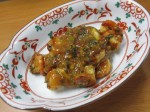 Ebichiri (lit. \"shrimp chili\") is grilled shrimp with doubanjiang, which may or may not contain chili peppers (based on which level of spiciness you choose). Originally a Szechuan dish from China, Ebichiri has been modified to fit the Japanese palate.
Ingredients
18 pieces of shrimp (216g)
1 clove of garlic (minced)
1 tbsp ginger (minced)
1/4 cup green onion (chopped)
Spices
2 tbsp sake (for uncooked shrimp)
1/4 tbsp salt and a dash of pepper (for uncooked shrimp)
2 tbsp katakuriko (potato starch for uncooked shrimp)
1/2 tbsp oyster sauce
1 tbsp soy sauce
1 tbsp sugar
4 tbsp ketchup
1 tbsp chicken soup powder
1 tbsp doubanjiang
dash of salt and pepper
Preparation
De-vein shrimp, and wash with cold water
Put shrimp in a small bowl, add salt and pepper, sake, katakuriko and mix.
Mix spices (oyster sauce, soy sauce, sugar, ketchup, chicken powder) together in small bowl
Heat oil in frying pan then sauté garlic and ginger
Add shrimp/sake/katakuriko/doubanjiang mixture and cook for 1 minute over medium heat. Add green onion.
Add mixed spices and 1/4 cup of water, mix, cook for 2 minutes and serve.