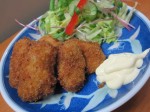 Kaki is the Japanese word for oyster. It is also called "umi no miruku (milk from the ocean)", named as such because of the high nutritional value of oysters. They are in season from fall to winter, so let's get fresh oysters and make this recipe!
Ingredients
18 oysters
1 egg (beaten)
1 cup panko (or breadcrumbs)
1/4 cup flour
1/2 lemon
Spices
3 tbsp Japanese mayonnaise, such as Kewpie, or tartar sauce
1 tsp olive oil
Preparation
Blanch oysters in boiling water for 8 seconds, and remove
Cover oyster with flour, dredge in egg, and cover with panko.
Heat oil to 375 degrees and fry oysters until golden brown (2-3 mins)
Remove and serve with lemon and mayonnaise or tartar sauce
For tartar sauce, use store bought sauce or use the recipe from Shrimp Fry.