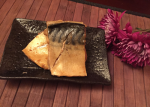 Saba Miso is a very common Japanese home cooking meal. People typically eat Saba Miso with steamed rice. This is one of my family's favorite meals and I have very good memories of my grandmother making it for me and my father when I was a child.
Ingredients
1 mackrel (or two fillets, about 1 lb)
1 green onion (2oz) chopped 2.5″
4 oz ginger (thin sliced)
Preparation
Fillet the mackrel and remove the bones (if necessary), then slice each fillet into thirds and use a knife to cut an X mark into the flesh. Pour hot water on the mackrel to remove any strong odor
Add all spices (miso paste, sake, soy sauce, mirin, sugar), 1/3 cup of water, ginger and green onion. Mix, and raise to a boil
After mixture boils, add mackrel and cook for 15 min on medium-low heat
Serve and enjoy!