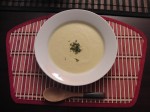 The Japanese people love corn soup. Almost every family style restaurant serves corn soup and many varieties can be found in grocery stores. Corn soup dispensers can even be found in our internet cafes next to the coffee and soft drinks!
Ingredients
1 can of corn (15.25 oz)
1/2 yellow onion (sliced)
1 1/2 cup milk
1 tbsp butter
1 sprig of parsley
2 cubes of Maggi Vegetable Bouillon
Preparation
Partially melt butter in a saucepan, then saute onion for 5 minutes (until soft)
Add corn and stir for a minute or so
Add milk and heat on medium-low until hot but not boiling
Crumble vegetable bullion cubes into the soup and stir
Remove from heat and transfer to blender
Blend until smooth
Return to saucepan, heat, then garnish with parsley and serve.