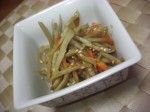 Kinpira is a Japanese cooking style in which strips of ingredients are stir fried and seasoned with sugar and soy sauce. Kinpira gobou is the most popular kinpira dish. I made
potato kinpira
before. This is popular item for Japanese bento (lunch boxes).
Ingredients
2 oz sliced carrots
4 oz sliced gobou
2 tsp sesame seeds
Preparation
Mix spices together in a small bowl (sake, soy sauce, sugar, and mirin)
Heat the sesame oil in a frying pan then stir-fry gobou and carrot for 2 minutes over medium heat
Add mixed spices in the pan, and cook for 2 minutes on low heat
Sprinkle sesame on top and serve!