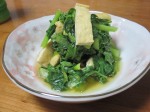 Japanese: Komatsuna to Aburaage no Nibitashi. Komatsuna is a leafy Asian vegetable, historically only available in the winter months, but these days you can buy it in any season. "Aburaage" is Japanese for deep fried tofu and "nibitashi" means boiled, seasoned, and marinated. If you can not find komatsuna, try spinach—it also compliments this recipe.
Ingredients
1 bundle of Komatsuna
1/4 lb aburaage (sliced into 1/2″ pieces)
Spices
1 tsp hon-dashi (soup stock powder)
1 tsp sugar
1 tbsp sake
2 tbsp soy sauce
2 tbsp mirin
Preparation
Mix all spices (sugar, sake, soy sauce, mirin and hondashi) and 1 cup of water then boil in a sauce pan
When the sauce boils, add komatsuna and aburaage and cook until komatsuna becomes limp and soft
Marinate for 10 minutes in the sauce and serve with a small amount of the marinade drizzled on top.