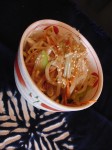 Bean sprouts are called moyashi in Japanese. It takes less than 10 min to prepare this recipe, so it is great when you need a quick side dish!
Ingredients
1 1/4 lb Bean sprouts
2 sticks of celery (chopped)
1 cup sliced carrots (thin)
Spices
2 tbsp Sesame
2 1/2 tbsp soy sauce
1 1/2 tbsp sugar
2 tbsp vinegar
dash salt
Preparation
Blanch bean sprouts in boiling water for 1 minute, and strain
Grind 1 tbsp sesame, then mix all spices in a small bowl (soy sauce, sugar, vinegar, ground sesame)
Mix bean sprouts, carrot, celery, 1 tbsp sesame, and spices in a bowl
Sprinkle salt to taste
Modifications
You can serve moyashi salad warm or cold, but I recommend it as a cold, crispy salad!