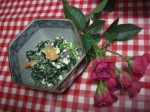 Japanese: hourensou no shiraae. This is a very common side dish in Kyoto home cooking. We call side dishes "obanzai". In Kyoto you'll find many obanzai buffets and restaurants, where the items on the menu are served in small portions and are usually a mix of vegetables and fish. This dish is great for your health, and a perfect side if you are dieting!
Ingredients
7 oz tofu
10 oz spinach
2 oz carrots (cut into thin squares)
3 oz konnyaku (cut into 1/4″ rectangles)
Spices
2 tbsp ground white sesame
1.5 tbsp sugar
2 tsp soy sauce
dash salt
Preparation
Boil water in a medium sized pot, then add salt
Add spinach and boil for 2 minutes
Strain spinach, pat dry with a paper towel, and set aside
Wrap tofu in paper towel and microwave for 1 minute to remove moisture
Remove tofu and discard paper towel, then wrap one more time and repeat
Place konnyaku in boiling water and cook for 1 minute (to remove strong smell)
Remove konnyaku and boil carrot in a fresh pot of water for 1 minute
Place tofu in a large bowl, add sesame and sugar, and mix
Add spinach, carrot, and konnyaku, then mix
Add soy sauce and salt to taste
Enjoy!