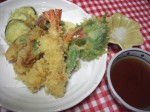 Tempura is a very popular Japanese dish all over the world. Basically it is battered and fried seafood and vegetables. We have been eating tempura over 300 years and there are many traditional, high quality tempura restaurants in Japan. This is simple dish but it takes a bit of work, and can be dangerous, so if you are not used to cooking with oil, please be careful!
Ingredients
10 shrimp
1/2 lb sweet potatoes
4 oz eggplant
8 long Asian green beans
4 pieces of chikuwa
1 small sweet green pepper (shishitou)
1 shiso leaf
5 oz lotus root
Spices
5 oz ground daikon (for sauce)
1 tsp ground ginger (for sauce)
1 1/4 cups dashi sauce (1 1/4 cups water with 8g hon-dashi)
1/4 cup soy sauce
1/4 cup mirin
1/4 cup sake
2 cups of tempura powder
Tempura Sauce
Mix dashi, sake, soy sauce, and mirin in a saucepan and boil. Add a little ground ginger.
Tempura
Cut vegetables into 1 or 2 inch pieces
Put 2 green beans in a chikuwa and slice in half
Mix tempura powder with water (please follow the package information)
Pour oil in a deep frying pan and heat to 375°F (190°C)
Dip ingredients into tempura butter and deep fry in oil until it browns (the Vegetables cook very fast (shiso = 10 seconds!), so watch them closely!)
Transfer fried vegetables to a dish covered with paper towels to soak up the excess oil
Serve with tempura sauce sprinkled with a bit of daikon
Modifications
You can use many vegetables and meats for tempura: chicken, fish (white meat), onion, asparagus, pumpkin, zucchini, broccoli, etc!