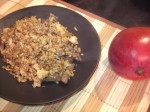 Japanese steakhouses serve garlic rice after the meal, and many of them cook teppanyaki style (preparing the meal on a grill in front of you). It's really fun to watch and be served by the chef moments after he cooks it for you!
Ingredients
2 small bowls of steamed rice
1/4 lb beef (chopped)
1/4 onion (chopped)
1/4 cup green onion(chopped)
1 tsp garlic (ground or minsed)
1 egg (beaten)
Spices
1 tbsp butter
1 tsp soy sauce (for mixing with egg)
1 tbsp soy sauce (for fried rice)
1/4 tsp salt
dash of fresh pepper
Preparation
Mix steamed rice, egg, and soy sauce in a bowl
Heat oil in a frying pan, stir in onion and green onion, and fry for 3 minutes on high.
Add garlic, beef, and cook for 3 minutes.
Add butter. When it fully melts, add egg and rice, then stir for 2 minutes, turning and separating the rice with the edge of a spatula.
Add soy sauce, salt, and fresh pepper, mix and serve!